This epic exhibition shows how masters from Man Ray and Mondrian to Maya Rochat transformed reality in their laboratory-like darkrooms and studios
In 1916, when Alvin Langdon Coburn met fellow American Ezra Pound in London, he was already a celebrated photographer, having made his name with striking monochrome portraits of leading literary and artistic figures such as Rodin, WB Yeats and George Bernard Shaw. It was Pound who introduced him to vorticism, the short-lived British avant garde modernist movement created by artist and writer Wyndham Lewis as a reaction to the dominance of landscape and figurative art. Equally frustrated by the representative nature of photography, Langdon Coburn immediately sensed the liberating potential of the vorticist dynamic of geometric shapes and cubist fragmentation.
In the Shape of Light, Langdon Coburns vortographs, blurred geometric arrangements of light and shadow, made using a set of mirrors to fragment the subject in an almost kaleidoscopic way, set the tone for an epic exhibition that traces the history of photography as experiment. Here, portraiture, landscape and documentary give way to abstractions created either by manipulations of light and chemicals or by distorting or fragmenting the actual world. The result is a kind of mirror-history of the mediums relationship to documentary and abstract art.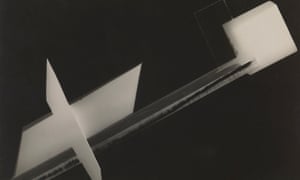 Read more: http://www.theguardian.com/us